Suicide Squad: Kill the Justice League is the next game from Rocksteady, the studio behind the mainline Batman Arkham games. This of course, comes with high expectations, given how beloved the Batman games are to this day. Suicide Squad looks set to be a decidedly different beast however, with a focus on four-player co-op across an action-packed open world.
Due to a recent leak, showing an apparent screenshot from a test build of the game, we now know a little bit more about what Suicide Squad: Kill the Justice League will be like at launch. We won't be linking to the leaks directly, but from what they show of the main character menu, there could be a Battle Pass structure to progression.
While we wait on confirmation of this Battle Pass, and on how progression is going to be handled in the final game, here's what we know so far about Suicide Squad: Kill the Justice League.
Suicide Squad: Kill the Justice League: cut to the chase
What is it? A Suicide Squad game from Rocksteady
When can I play it? May 26, 2023
What can I play it on? PS5, Xbox Series X|S, and PC
Suicide Squad: Kill the Justice League release date and platforms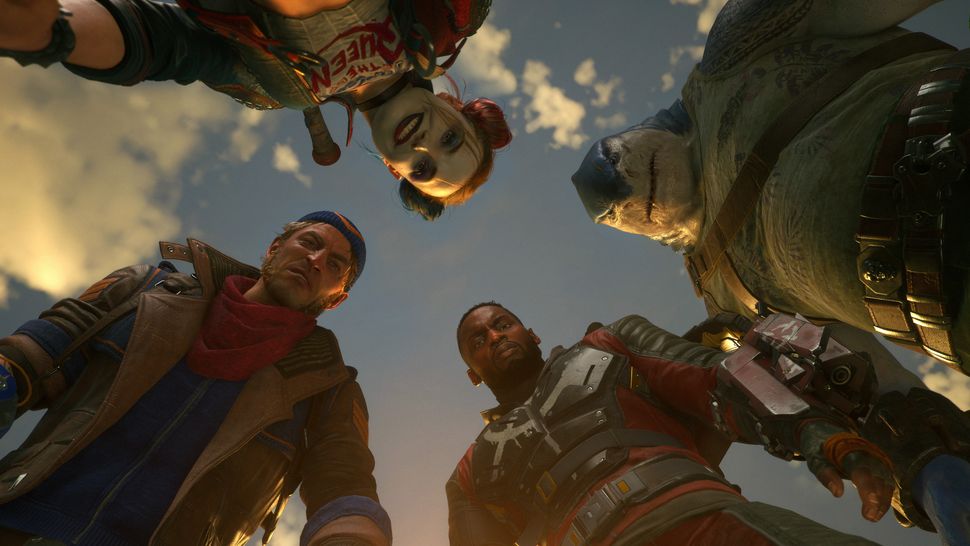 Suicide Squad releases on May 26, 2023, for PS5, Xbox Series X, Xbox Series S and PC, following a delay from its initial 2022 release window.
Suicide Squad: Kill the Justice League was announced in August 2020 via the game's official Twitter account (opens in new tab). An image of Superman confirmed its existence before pointing fans to DC FanDome 2020, a virtual online convention. It's here that Rocksteady officially unveiled the Suicide Squad game's initial 2022 release window and first trailer.
However, a delay was confirmed by creative director and Rocksteady co-founder Sefton Hill on Twitter (opens in new tab). Hill stated the extra development time would allow the team to bring the game up to the quality fans expect.
"We've made the difficult decision to delay Suicide Squad: Kill the Justice League to Spring 2023," Hill said. "I know a delay is frustrating but that time is going into making the best game we can."
At The Game Awards 2022, we finally got a confirmed release date.
Suicide Squad: Kill the Justice League trailers
Batman reveal cinematic trailer
The latest trailer for Suicide Squad: Kill the Justice League was shown during The Game Awards 2022. This cinematic trailer sees Task Force X confronted by a seemingly not-so-nice Batman following their capture of The Flash. The cinematic confirms the late Kevin Conroy is voicing the Caped Crusader in the Suicide Squad game. Check it out below:
Gameplay trailer
The first gameplay trailer for Suicide Squad: Kill the Justice League was revealed at The Game Awards 2021. In it, the team is tasked with taking down The Flash and Brainiac, which of course won't be easy. We see Harley Quinn, King Shark, Captain Boomerang and Deadshot in action, who each have their own unique movesets and abilities. 
Story trailer
At DC FanDome in October 2021, Rocksteady premiered the first story trailer for Suicide Squad: Kill the Justice League. It gave fans even more details about what to expect, from Amanda Waller recruiting the Suicide Squad to lots of fighting in Metropolis.
There are plenty of references to previous Batman: Arkham games as well, like Poison Ivy and her vines halfway through. Check it out for yourself:
Reveal trailer
As part of DC FanDome on August 22, 2020, Rocksteady premiered the first trailer of Suicide Squad: Kill the Justice League. It opens with a look at what seems to be supervillain Brainiac's lair, before confirming the game's location as Metropolis. Panning down we get the reveal of Harley Quinn, followed by her fellow Task Force X members: Captain Boomerang, Deadshot, and King Shark.
Suicide Squad instigator Amanda Waller speaks to Quinn through comms telling them to make their way to the Metropolis Grand Hotel as "alpha target" is now in the open and needs engaging. After a montage where the group takes on hordes of Brainiac's army – to OutKast's B.O.B – Bombs Over Baghdad – they reconverge on a roof. Quinn then tries to remember who they should be on the lookout for, until being suddenly interrupted by a helicopter explosive. 
As the smoke clears, it appears that Superman has saved the helicopter pilot – only to decimate the human moments later via heat vision, while seemingly under the control of Brainiac. The group quickly realize that the Man of Steel is their "alpha target", and the trailer ends as a boomerang comically hits Superman's head, with Captain Boomerang uttering: "You shouldn't have done that, shark". Check it out below:
Suicide Squad: Kill the Justice League story and setting
Details of Suicide Squad: Kill the Justice League's campaign are limited for the time being. We do know that it's an "original narrative" set in the DC universe and a continuation of the Batman: Arkham-verse (the universe created by Rocksteady in its Batman: Arkham series of games).
The Suicide Squad game picks up sometime after the events of Batman: Arkham Knight and sees Amanda Waller (AKA "The Wall")  putting together a task force of Arkham inmates, known as the Suicide Squad. Their goal is to undertake a covert mission in Metropolis – with Waller implanting lethal explosives in the inmates' heads to encourage them to get on board.
When the ragtag team arrives, they quickly realize that Brainiac is attempting to invade the planet and, in an attempt to do so, has brainwashed the Justice League (including the Flash, Superman, Batman and Green Lantern). To save the planet, the Suicide Squad needs to hunt down each brainwashed Justice League member and eliminate them – oh, and takedown Brainiac. 
Metropolis will serve as the open world in Rocksteady's Suicide Squad. The city is best known as the home of Superman, taking inspiration from the likes of Toronto and New York, while also being neighbors with Gotham. During a DC FanDome panel, Creative Director Sefton Hill described Metropolis as the game's "fifth character" and hopes it will serve as a "love letter to DC fans".  
We're hoping for the majority of Justice League members to make an appearance in Kill the Justice League, including Aquaman and Wonder Woman. The Game Awards cinematic trailer confirmed Batman will be making an appearance, which is certainly interesting considering how Batman: Arkham Knight ended. 
During the panel, Hill also spoke about the narrative links that will continue on from the Arkham series, stating that: "a lot of through threads and storylines you're gonna see come to fruition in this game".
Suicide Squad: Kill the Justice League gameplay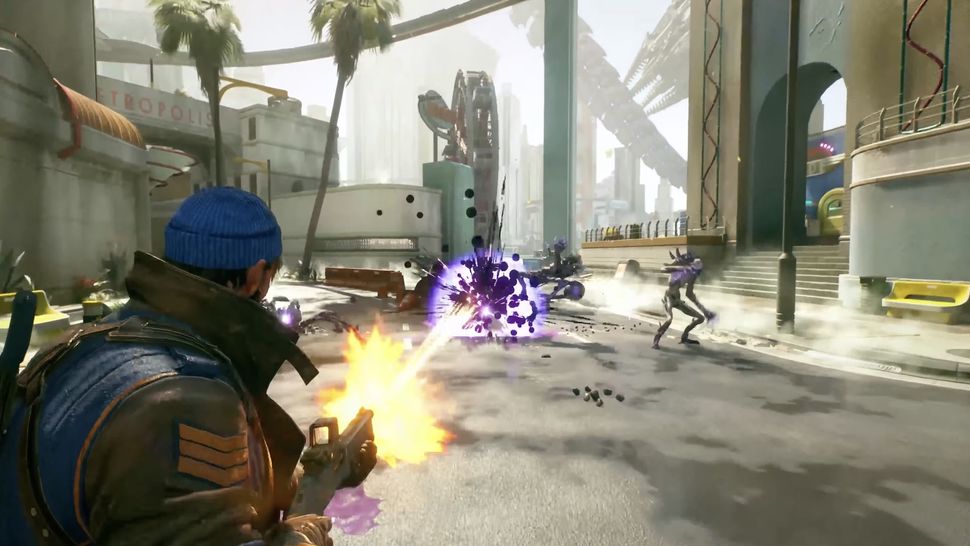 We've only seen snippets of Suicide Squad: Kill the Justice League's gameplay so far, but we have some solid details. 
Set in an open-world depiction of Metropolis, we're hoping it'll be almost like a larger-scale version of Rocksteady's Arkham City. This open-world approach should mean there's plenty to explore and we're hoping there are plenty of Easter Eggs (like in Arkham City).
We also know that you'll have the option to play the game solo or multiplayer. Players who opt for solo play can switch between other members of the squad as they please, with the uncontrolled team members being handled by AI to play alongside you.  
If you want friends to join you, they can jump into the shoes of the squad members you don't want, with up to four players able to play at once. According to Rocksteady, this is going to be a seamless gameplay experience and the co-op will be drop-in, drop-out. So, you can have friends playing with you one minute and go solo the next without it impacting your game. 
You'll have four playable characters to choose from, each with their own "unique moveset" and "enhanced traversal abilities": Harley Quinn, King Shark, and Captain Boomerang. While these exact abilities and moves haven't been specified, we did get a look at each of the anti-heroes' unique playstyles in the gameplay trailer released at The Game Awards 2021. 
From what we saw, Harley is pretty agile, can land powerful melee attacks, and has a grappling hook in her arsenal, King Shark is all about brute force but can whip out a gatling gun when he needs it, Deadshot lends firepower to the group (capable of both sniping and aerial assaults). Finally, Captain Boomerang is extremely fast on his feet, with his boomerang taking out ranged enemies with ease, as you'd expect.
Suicide Squad: Kill the Justice League news and rumors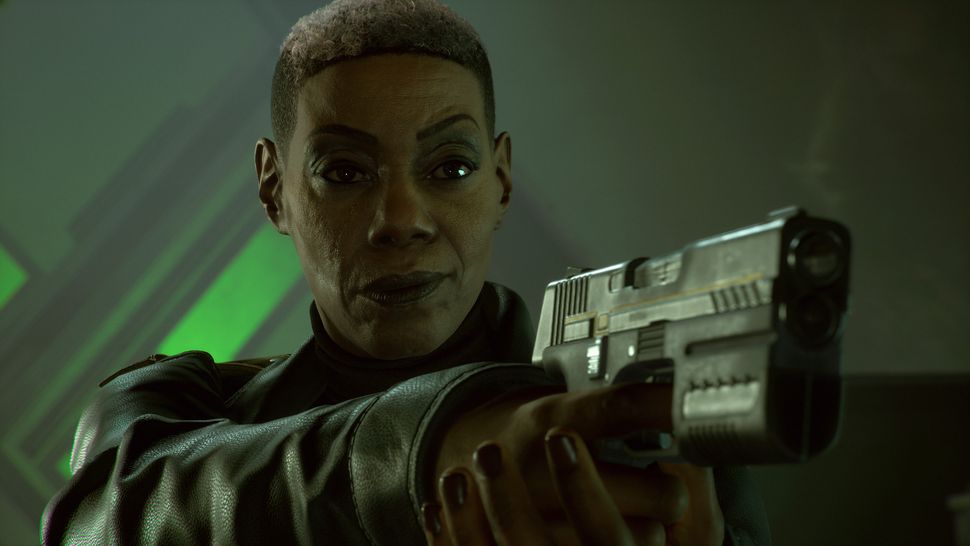 Leaked images show a possible Battle Pass progression system
As reported by VGC (opens in new tab) (opens in a new tab), some screenshots were posted to Twitter on January 17, apparently taken from a development build of Suicide Squad: Kill the Justice League, The image appears to show multiple in-game currencies, and even a Battle Pass tab. While VGC has said it has verified the information shown, there's been no official comment from Warner Bros. or Rocksteady.
While the appearance of a Battle Pass has triggered some concern for certain gamers, a source close to VGC explains that the focus will be on cosmetic items like skins.
Kevin Conroy is Batman
The late Kevin Conroy has been confirmed as the voice of Batman in Suicide Squad: Kill the Justice League. Conroy voiced Batman in all of the Arkham games, as well as in Batman: The Animated Series and various movies, so it's poignant to see he was able to lend his voice to Rocksteady's latest.
New Artwork
Ahead of Suicide Squad: Kill the Justice League's appearance at DC FanDome 2021, some new key art was released. The Artwork gave us a fresh look at the game's four main playable characters: Harley Quinn, Deadshot, Captain Boomerang and King Shark. 
No more additional characters?
It looks like Suicide Squad: Kill the Justice League won't be expanding its roster of playable characters beyond the four that have already been confirmed. 
As reported by PCGamesN (opens in new tab), a press release for the game states that "the game's original narrative follows the four Suicide Squad members as they take on an impossible mission to save Earth and kill the World's Greatest DC Super Heroes," which strongly suggests no more will be added. This definitely casts doubt on previous rumors that the game will be an evolving live service title in the style of Marvel's Avengers. 
Is Warner Bros Interactive leaning into live service?
According to a spotted advert for an internship in January 2021(via IGN (opens in new tab)), Warner Bros Interactive Entertainment's upcoming projects are going to have a "heavy focus on live service".
There's a section of the advert (opens in new tab) that states that "WBIE is currently involved in a variety of new projects, ranging from casual games to core games featuring our well-known franchises on all platforms (console, digital, mobile) with a heavy focus on live service. "
Generally, live service elements in a game will see it being updated by its developer after release with things like new features or storylines. It's not uncommon in games these days and can be effective when done right but it can also be controversial when a game doesn't get off to a strong start eg. Marvel's Avengers. 
Although Suicide Squad: Kill the Justice League isn't referred to directly here, it is one of the games that Warner Bros will be publishing in the next couple of years. However, Rocksteady hasn't actually confirmed that there will be any live service elements in Kill the Justice League, so at the moment we can't be sure if they have any involvement in Kill the Justice League. 
Gotham Knights doesn't involve games-as-a-service elements, which means that there's no guarantee every game published by Warner Bros Interactive Entertainment is going to be subject to this. Certainly, we haven't seen any clear evidence that Suicide Squad will include live service elements and as result, we're going to need to wait for official confirmation from Rocksteady before we can be sure. 
Mugshots
The official Suicide Squad: Kill the Justice League Twitter account tweeted out some neat mugshots of the game's playable characters back in December 2020. Our favorite is the one of Harley Quinn, which you can see below:
Voice actors
So far, two out of the four Suicide Squad members have been confirmed, with long-time Harley Quinn veteran voice actor Tara Strong resuming the role once more. King Shark, on the other hand, will be voiced by WWE wrestler Nuufolau Joel Seanoa a.k.a. Samoa Joe. 
While no official word on the voice of Captain Boomerang, it's heavily rumored that Chris Parson has been given the role. He previously voiced Junkrat in Overwatch and there is a huge resemblance when listening to the two. 
Deadshot is a little harder to pin down. Chris Cox previously voiced the one-shot wonder in Arkham City and Arkham Origins, both of which are set in the same universe. This Deadshot has been confirmed to be the Floyd Lawton interpretation of the character too, however, there's a huge gaping flaw why it doesn't seem to be Cox that's returning. 
For one, the audio clip sounds nothing like his version, and two – the most damming – this Deadshot is black, as opposed to the white version Cox portrayed. Therefore, without an established voice immediately jumping out at people, many believe it may be an up-and-comer. However, King Shark was killed in the direct-to-video Assault on Arkham, so the question of what is actually 'canon' is very much up in the air. 
Outside of the Suicide Squad itself, Debra Wilson is confirmed to voice Amanda Waller. Wilson previously voiced Waller in 2017's Batman: The Enemy Within.